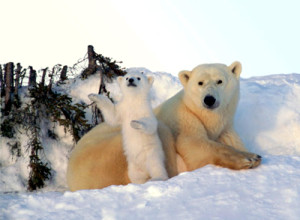 Our specialty is 60 and 90 minute flight tours customized to meet your expectations and desires. During polar bear migration season, we offer a money back guarantee that we will find polar bears for you on these flights. Call us for details.
An unforgettable flight across taiga, tundra and boreal forest takes you into the realm of the polar bear. Rarely seen polar bears up to 681 kg (1,500 pounds) rest and test their strength while patiently waiting for the sea ice to form.
Further inland you may see females with their playful cubs. Aerial tours offer unsurpassed flexibility and a truly unique perspective to these lords of the arctic.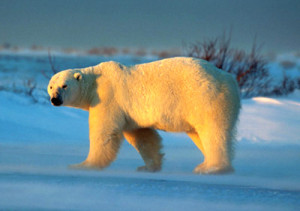 Along the way, you may see moose, caribou, seals, arctic fox and many more of the diverse creatures that inhabit this pristine wilderness.
We adapt our routes daily to the migration patterns of the animals. Our extensive hands-on wildlife experience coupled with intimate knowledge of the area enables us to provide you with the ultimate in wildlife viewing opportunites. Our knowledgeable pilots will provide you with interesting and enlightening commentary and answer all your questions during the flight.
During the summer months, you can fly along the coast and see beluga whales as they congregate to give birth and feed their calves before departing in early August. Polar bears can often be seen during this time on longer flights.
We are flexible and will always try and accommodate your wishes. Contact our office for more details. We want your stay in Churchill to be one of the most memorable experiences of your lifetime. Book your polar bear flight today!
Click here to check out our reviews on Trip Advsor